Laird PRL90209-FNF: AN440 type dual element RFID antenna - monostatic / bistatic model.
Posted by Michael Crudele on
Everyone in the RFID business knows that Arcadian is working to be the antenna consultant and fulfillment partner of choice. To that end, we are always on the lookout for great new products that allow you, the RFID professional, to get the job done right. 
We picked up this new model antenna, the Laird PRL90209-FNF and wanted to bring it to your attention.  This awesome antenna does double duty: with it's dual element design, it can operate as two mono-static antennas, or one bi-static antenna.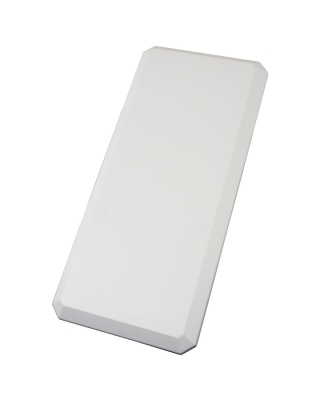 Click the image for the full PRL90209 data sheet / spec sheet
The PRL90209 panel antenna for UHF FCC RFID gives you a wide beamwidth (70 degrees in both planes) and high-speed RF signal conversion with it's 9 dBic gain, so data captureis fast and accurate, even in large warehousing or production environments. The PRL90209 is easy to mount on ceilingsand,  walls or masts/poles, and its rugged white radome is aesthetically pleasing enough to be mounted in an office enviornment or in an industrial setting. This antenna will allow you to achieve superior read zones around stockroom shelves,warehouse doorways and dock platforms – anywhere that goods are moving in and out of your facility.
Here are the basic specifications for the PRL90209 antenna:
Frequency Range: UHF RFID - FCC 902-928 MHz
Gain: 9 dBic
Max VSWR: 1.4:1
Max Input Power: 10 watts
Polarization: Two antenna elements. (1) LHCP & (1) RHCP
Environmental Rating: IP67 - outdoor rated
Size: 22.6 (L) x 10.2 (W) x 1.32 (Thickness) in inches
Weight: 4.2 Lbs.
Connector / Cable: (2) Fixed N-Female connectors, no cable.
Contact us any time for more information:
customerservice@arcadianinc.com
---
Share this post
---
---
---
0 comment